How Do I Choose A Riding Lawn Mower
Posted by:
Admin
Tags:
Riding Mower, Mower Types, Mower Features
Posted date:
28-07-2022
Need help choosing a riding lawn mower? This article goes over the types of riding lawn movers and the best features to look out for.
When choosing a Riding Lawn Mower, there are numeroes options, each designed for a slightly different garden size and environment. This helpful guide will break down the best Riding Lawn Mowers available on the market and the most desired mower features for an efficient and clean cut. We also offer information regarding costs, comparing options to determine which is the best choice for you.
Ride-On Lawn Mowers can be expensive, so conduct sufficient research to feel confident you've made the best decision. The reason for selecting a riding mower will help determine which model or make you require. You could have just purchased a big plot of land that requires immediate and continuous mowing, or maybe you've just got tired of lugging around a standard push/pull mower.
No matter the reason, driving a Riding Lawn Mower can be a lot of fun and is an effective way to maintain and care for your lawn. A wide range of Riding Mowers are available, each differing in size, make, fuel used, cutting deck widths, moveability, flexibility and much more!
With so many trusted brands and model options, it can be a lot of hard work to find the perfect match, so keep reading for some top tips, or contact our trusted team at The Mower Shop today!
Do I Need a Riding Mower?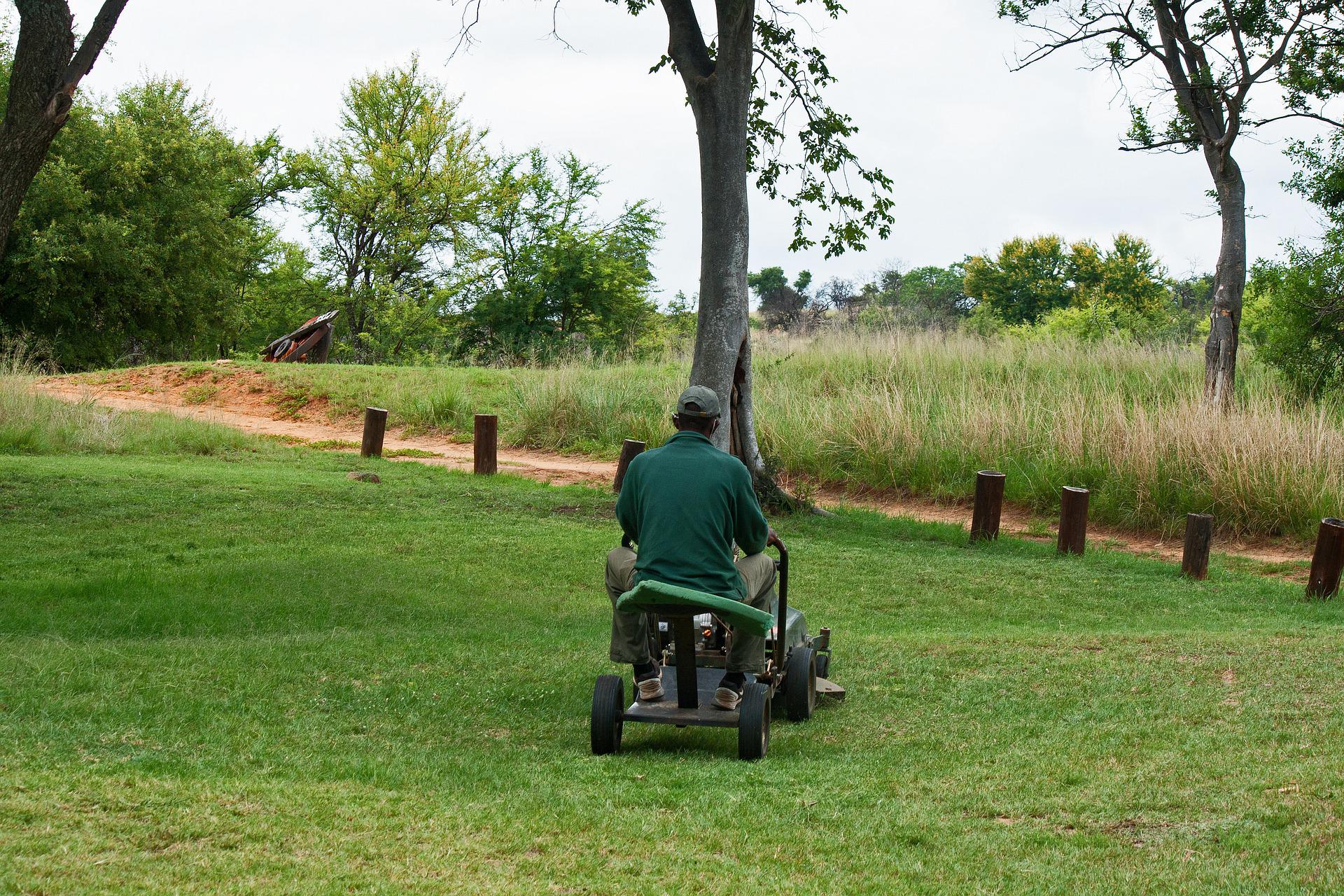 So you are trying to determine if you NEED a Riding Lawn Mower or not. Well, two important considerations are; the size of your lawn and the set budget. Garden spaces that stretch over half an acre or less are unlikely to need a riding mower, and it may be best to stick to a standard push/pull mower, saving you money!
You can still opt to use a riding mower for efficiency purposes, but first, consider a simple upgrade to a petrol-fuelled or cordless mower for increased power and manoeuvrability across up to 150sq of lawn.
Petrol or cordless handheld mowers increase efficiency for a fraction of the price compared to Riding Lawn Mowers. The next option would be a slightly pricier Compact Ride-On Mower or mini-rider, slimly designed to fit through any standard garden gate and provide a clean lawn cut.
If reducing the workload when cutting your lawn is a priority, you could look into the unique option of Robotic Lawn Mowers. These automated machines can maintain your lawn space independently, applying a straightforward mapping system and low-voltage wires to create an invisible perimeter.
The Robot Mowers even notice their own low battery and direct themselves back into the charging port, so minimal work for you and more time to enjoy your garden space. Just be wary that wet grass can hinder a Robotic Mower, as it can cause it to slip and damage your lawn.
Cutting wet grass will clog up the machine and it will require cleaning more regularly, it's recommended to wait a few hours after rain before sending your Robotic Mower out.
Or, simply, stick to the old-fashioned way, and pay a neighbour, handyman, or local labourer to cut your lawn, removing the need for your mower and helping someone else earn a wage. Just be wary that it could add up in the long term.
Which Type Of Riding Mower Is Best?
Purchasing a new Riding Lawn Mower is a financial investment, and careful consideration to make the right choice is an investment of your time. Yet, the rewards from finding the perfect Riding Mower can reduce time spent mowing in the future and create a fun aspect to a previously dreary task.
Rear Engine Mowers are generally more compact, designed for smaller yards, and to fit through any standard 28-inch garden gate. Generally, Rear-Engine Riders have a front-cutting deck, allowing you clear eyesight whilst mowing.
Most Zero-Turn mowers are rear-engined, allowing for a tight turning circle and a visible look at what's getting cut - perfect for avoiding flower beds. Although smaller machines, prices for Rear-Engine Riders are similar to standard Riding Mowers owing to their speciality compact design.
Garden Tractors VS Lawn Tractors
Other than Rear engine riding mowers, there are two Riding Mower categories for much larger machines, Garden Tractors and Lawn Tractors.
Below we describe the two and highlight four key differences between Lawn and Garden Tractors; Function, Size, Power and Cost. Although there are other aspects like Cutting Deck, Transmission type, Fuel Type etc.
Function
The functionality, or usability, of your new Riding Mower, is very important. The main difference between Lawn and Garden Tractors is the uses they were designed for. Lawn Tractors are primarily used to mow grass with little option for additional attachments or uses, reducing the year-round value during winter.
Whilst Garden Tractors are heavier machines meaning they can tow weighty equipment, grade driveways, attach snow ploughs, till gardens and much more.

Size
Generally, Garden Tractors tend to be larger and weightier than Lawn Tractors, owing to more powerful engines and transmissions. These more powerful aspects allow Garden Tractors to tow heavier attachments or materials without tipping over.
If you choose a Garden Tractor, consider the extra storage space you'll require. On the other hand, Lawn Tractors generally have smaller wheels increasing manoeuvrability around obstacles, while Garden Tractors have a rear-wheel drive which makes turning more difficult.

Cost
Although for some it may not be, cost should be the last factor to consider when selecting between a Lawn Tractor and a Garden Tractor.
As expected, Garden Tractors carry a larger price tag, in conjunction with their larger size and vast catalogue of uses.
The best Riding Mower Features to look out for
Compare various Riding Lawn Mower features, focusing on engine size, machine size, transmission type, brand, attachments, fuel use, guarantees and cutting deck type, deck width, and much more.
Below we break down a few different components to look out for when choosing a new Riding Mower for your garden, including transmission type, cutting deck width and type, and lastly, some popular brands.
Transmission, as the name suggests, transmits the power from the mower engine to the wheels, along with controlling the speed using torque. For some time, the default transmission type for Riding Mowers has been Automatic Transmissions, the most common being Hydrostatic Transmission.
Hydrostatic Transmissions enable a greater spectrum for the Riding Mowers' forward speed, with the manual 'jump' between gears removed. Various models of Riding Mowers offer hydrostatic transmissions, from Lawn Tractors to Zero-Turn Mowers.
The size and style of the Cutting Deck are vital when deciding on a new Riding Mower for your garden. The choice shouldn't be based solely on the lawn size but also, on storage space and desired workload reduction.
Generally, the larger the lawn, the wider the cutting deck should be, although a larger cutting deck can reduce time spent on any size lawn. It's estimated a 42inch cutting deck on a Garden Tractor can cut 1 acre of grass in roughly an hour, whilst a 50inch cutting deck reduces the time by 17%.
Below are some guidelines for the cutting deck size required for your lawn space;
Small Lawn (1/2 acre or less): 40inches or less
Medium Lawn (1/2-2 acres): 42-48inches
Large Lawn (3 acres or more): 50inches
There are countless Riding Mower Brands, from CUB CADET to TORO. Always ensure the Riding Mower you purchase comes with a guarantee and is from a trusted stockist. Check local repair centres to determine which brands are easily assessable in case of damage.
Here at The Mower Shop, we are proud trusted stockists of many top Riding Mower brands, offering genuine manufacturer spare parts and accessories.
Riding Mower Buying Considerations and Costs
As mentioned the biggest considerations when purchasing a new Riding Mower is the size of your lawn and the budget you have set. As expected, large lawns with uneven terrains will demand more robust mowers to ensure an efficient now.
Similarly, the larger the mower deck, the less time it'll take to mow large lawns. Mulching Mowers are a great choice, if your main aim is to reduce workload, these riding mowers can slice grass into small pieces and return it to the soil, leaving no grass clippings to empty.
The key mower features that affect price are; cutting deck size, age of the riding mower, manufacturer and the type of ride-on lawn mower.
The following prices are based on gas-fuelled riding mowers.
For a new Lawn Tractor, expect to pay around £1,500 to £2,000, these are relatively cheap owed to their specific, compact design and lack of flexibility for other jobs. Generally, Rear-Engine riders cost slightly less, around £1,200 to £1,900, although this can vary depending on attachment ability.
The more expensive Zero-Turn Mowers, although rear-engined, cost significantly more, upwards of £3,000, owing to their unbeatable manoeuvrability around flower beds or other obstacles.
Additional accessories will increase the price, depending on the type of attachment, this could be a tow, grass clipping collectors, lawn sweepers, and more.
There is the option to buy second-hand, although pre-owned mowers may come without a guarantee, so make sure your purchase from a reputable dealer. Furthermore, how the riding mower is fuelled will also affect the price. Prices stated above will increase around 30% for battery-powered riding mowers.
Are you looking for garden machinery suppliers in Northampton? Get in touch today! We are the premium provider of lawnmowers and ride on mowers in Northamptonshire.