Rotary Mowers for Sale Northampton
Here at The Mower Shop in the East Midlands, near Northampton, we stock a huge selection of electric, battery and petrol operated rotary mowers.
Some of our stock is available to check out on our website, but you must visit our showroom to experience the full range. There we can give demonstrations for all of our rotary mowers, as well as give you hands-on tests with our great gardening equipment.
Our Rotary Mowers for Sale
Our showroom stocks all the classic brands you know for their fantastic build quality and reliability, such as Hayter, Weibang, Mountfield, Toro, Viking, Stiga, Etesia, Lawnflite, and AL-KO.
All of these manufacturers are guaranteed to give you a quality product that will give you plenty of utility and service for many years to come. If you ever feel like something about your mower isn't quite right and need a repair, then we can help with that too. We also stock a huge quantity of spare parts for almost all of our machines. If you're interested in our servicing offers, then please take a look at the servicing section of our website.
All kinds of rotary mowers are available through our store, whether that would be machines that bag your grass up or those that mulch grass and send it back into the ground. Our range features petrol mowers, starting at around £169 and upwards. We have electronic mowers from £99 and battery mowers from £329 too.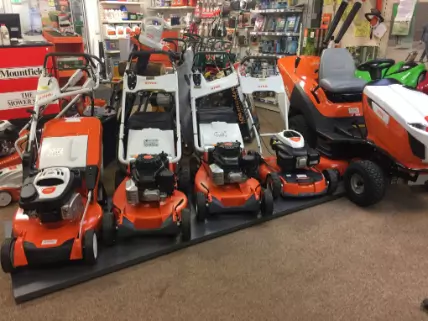 Benefits of Rotary lawnmowers
Purchasing Price
In comparison to other types of lawnmowers, rotary mowers are significantly simpler in their construction. This makes the machine's much easier to manufacture, and the savings are passed straight onto you, the customer.
Rotary motor prices can be several hundred pounds cheaper than their alternatives and still produce a similar, if not identical, end product.
Long Grass performance
When it comes to cutting through large volumes of thick grass and making it last, rotary mowers have first-rate efficiency. The mower's rotary blades create an uplift draft, this means that when a higher-finish grass height is necessary, the rotary mower is able to deliver a fantastic end result.
Rotary mowers have simple systems and mechanics that mean that even gardening novices will be able to wrap their heads around how to use the machine.
Rotary mowers have far fewer adjustments to be made when setting up the machinery, so complex knowledge of mowers is not required. They also need much less maintenance compared to other mowers on the market.
Wheels
The majority of rotary mowers use their wheels as a means of cut control height. Making the cut control process even easier. The rotary mower's wheels also make the machine incredibly painless to move around your lawn and transport.
Although, keep in mind that rotary mower's wheels can sometimes make the mowing of flowerbed edges quite difficult.
Grass box position
Rotary mowers will often have a grass box positioned at the back of the machine. Not only is this an effortless way to collect up your grass, but the box's location on the mower makes using the mower in tight corners even easier.
Debris tolerance
Rotary mowers operate using an extremely high speed rotating blade. This blade has sharpened edges that will shred through the grass at unbelievably high speeds, similarly to how a machete would cut through paper.
This machete action of the rotary mower's blade means that the mower is highly tolerant of un-seen debris hidden in your lawn. With other types of mowers, such as cylinder mowers, sticks and stones hiding in the grass can severely damage the machine's whole system, even going as far as to break blades.
This is not the case with a rotary mower, so you will be able to mow without worrying about unforeseen dangers.
---
If you are looking for rotary mowers for sale in Northampton get in touch today. Call 01788 510453 to find out more about our current stock.