What Are Common Garden Tools And Machinery
Posted by:
Admin
Tags:
Posted date:
22-11-2022
Most Common Gardening Tools & Their Uses
Find out more about the common garden tools and machinery. Find out more about the most common gardening tools and their uses.
Gardening gloves
A high-quality pair of gardening gloves is highly underrated. Many people don't even think to buy them, yet they are absolutely essential.
Of course, they stop your hands from getting dirty, but they are also excellent for protecting your hands from thorns, blisters, and calluses and ensuring that any existing cuts do not end up getting infected.

Wheelbarrow
A wheelbarrow is perfect if you have a large backyard, as it can be used for cultivating and assisting in a huge amount of different gardening tasks.
Wheelbarrows can be made from all sorts, including steel, fabric, and plastic, but no matter what they are made from, they are always fantastic tools.
Especially when transporting new seedlings to a new flower bed.
Hand trowels
This is used for the digging of smaller holes and weeds.
With a hand trowel, you can plant flowers, take out weeds, and dig holes. It is essentially a tiny hand-sized shovel.
Some have a forked end which allows you to dig directly into the base of a weed and pull it out by the roots.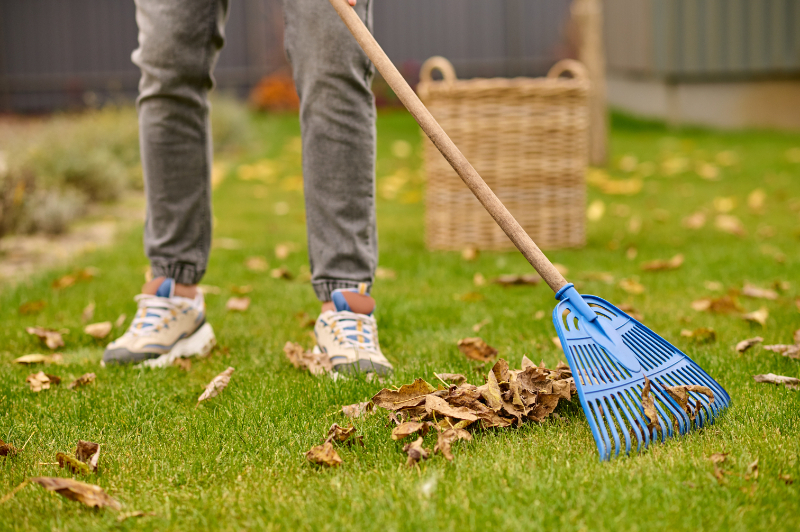 Bow Rake
This is an indispensable tool for people who have a back garden that they use for gardening.
Large rakes can be used for removing grass clippings and leaves.
They can also be used for removing stones from a garden, spreading mulch, and clearing weeds.

Digging shovel
This one is an absolute classic. Shovels make digging, lifting, and sifting all kinds of different matter much easier.
Shovels can be used on dirt, snow, coal, gravel, sand, and more.
A shovel is a multipurpose tool and can be used for so many different jobs.
Shovels also work fantastically alongside a wheelbarrow, especially when you are trying to transport dirt.

Digging fork
For so many of the common gardening tasks, you will need a digging fork.
It is compulsory for tasks such as lifting roots, shallow-rooted weeds removal, and loosening soil.
The fork has four flat but thick tines that are ideal for breaking down dirt that has become quite compact.

Garden knife
Garden knives are perfect for cutting and trimming; they are highly convenient and can be used by beginners too.
These knives are also invaluable when it comes to weeding.
They are also very helpful when cutting sod, dividing plants, and transplanting.

Garden hose
As any gardener knows, watering your plants and the rest of your garden is an absolute must.
In smaller gardens, a watering can will do the job, but if you have a larger space, then we recommend the use of a garden hose.
Hosepipes are really easy to store too, just roll it up and tuck it away in some corner of your shed.

Lawn mowers
The more often that you have your lawn cut, the more healthy your garden's grass shoots will be.
Over time this results in a much more healthy look and feel to your lawn.
This is exactly why lawnmowers are so perfect. In addition to keeping your grass healthy and making your garden look presentable, they can also be used for eliminating pests that lurk in the grass and clear pieces of debris.

---
We hope you found our article on essential gardening tips useful. Our lawnmower services are here to help you maintain your garden.
Are you looking for lawnmower spare parts in Northampton? Get in touch today! We are the premium provider of lawnmowers and ride on mowers in Northamptonshire.